TA-04 Chassis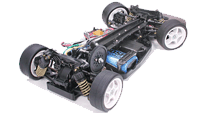 The TA04 chassis is, quite literally, an inexpensive spin-off of Tamiya's first purpose-built racing sedan, the highly successful high-end TRF414 series. It benefits from the innovative and very efficient 2-belt drivetrain layout and all versions had adjustable shock angles, camber, and roll centers..
The 'S' in TA04-S stood for "Sport," not the typical "Short wheelbase," and this model differred from the base TA04 in the inclusion of ball bearings and turnbuckle style camber & steering linkages. The short wheelbase version was called the TA04-SS and was a mere 10mm less in length by virtue of offset a-arms; the chassis was unchanged.
The high-end TA04-R included a stiffer carbon fiber-reinforced main chassis tub & uprights, a woven carbon upper deck, new fine-toothed 0.4 module spur & pinion gears, ball diffs, TRF aluminum dampers, a stiff spring set, sway bars, and a host of useful aluminum bits.